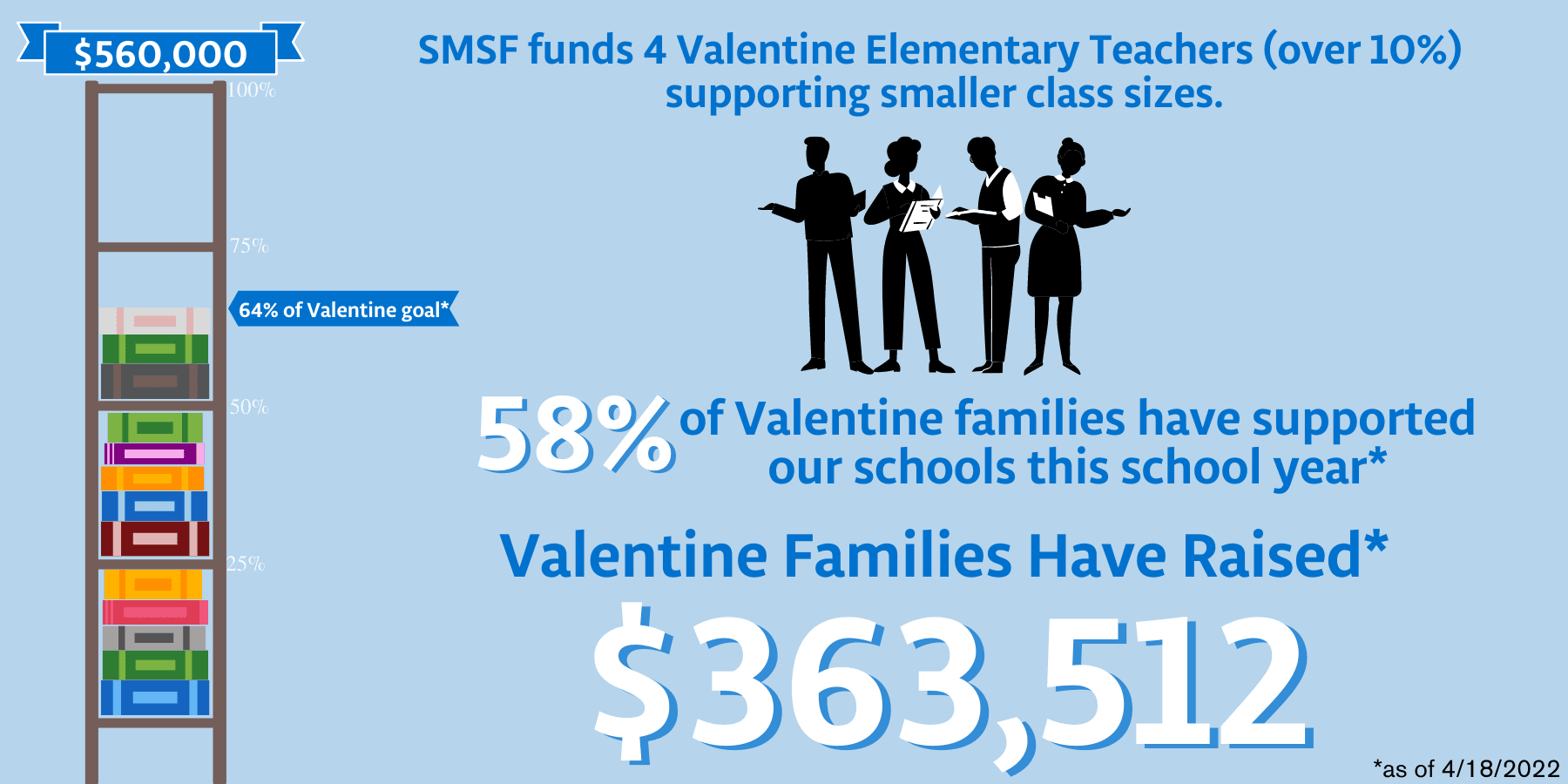 We Need Your Help To Reach 100% Participation!
Please join these families and help us reach 100% parent participation at Valentine Elementary School.
Founder's Circle
$10,000 and Above
The Guo Family
Mark & Danica Hughes
Gabriel & Lourdes Lopez
Stacy & Edward Paek
The Repstad Family
Jon & Daisy Wilson
San Marino Family Circle
$5,000 to $9,999
Apple Tree Family Trust
Brent & Erin Bilvado
Victor & Johanna Buhler
The Carr Family
Weiwei & Henry Chang
Kenny Chen & Annie Yu
Derek & Wendy Cheng
Eireen & Peter Chien
Erin & Vincent Clougherty
Lilyn & Sumit Daftuar
Vivian & Jeramiah Dalton
The Lawrence & Elsa Fu Family
The Hoglin Family
Toby & Yuka Hsieh Family

Ruize Hu & Jing Zhao
Kyu & Jennifer Kang
Jay Li & Family
Leyen & Dennis Lim
Renita & James Lin
Margaret & Stephen Loh
Jiasheng Mai & Huan Xie
Marisol & Casey Mork
Laura Orozco & Michael Villalobos
Kristin & Chris Pagano
The Robinson Family
Ken & Lori Schumann
The Segimoto Family
The Stenvick Family

Ken & Kim Sutantyo
The Sun Family
Jennifer Sun & Thomas Yang
Christopher Ting & Heidi Xue
Grace Ting & Raghu Murthy
Rosemary Lay & David Wang
The Wildeman Family
Richard Wong's Family
Edward, Michelle, Scarlett & Caleb Yen
Wenting Yu & Weiqi Ding
Allan Yu & Serena Wang
Shengyuan & Michelle Zhang
Lacy Park Donor
$3,000 to $4,999
Tony Chang & Jing Li
Kevin & Jenny Chang
Lisa & Warner Chen
Stephen Choi & Ann Wu
Danielle Dabbs
The Gin Family
Emma & Charlie Ho
Jesse & Zena Jacobsen
Amanda & Donovan Janus
Luke & Jyoti Kelly
John & Lesley Lam
Henry & Carol Lin
Peter Ly & Evelyn Xu

Brad & Audrey McCarthy
Cheryl & Daniel Montejano
Minghua Na & Dawu Zhao
Charles & Kathleen Pastre
Addison Shen & Fei Peng
Huan Tong & Yun Deng
Iris Yang & Yuanzhi Zhang
Brian & Alisa Yingling
Vincy Yu & Andy Chen
Pauline & Jonathan Zeitlin
Xiang & Queenie Zheng
Huntington Donor
$1,000 to $2,999
Tracy Liang & Jeremy Baker
Jingna Chen & Xionghui Pan
Hazel Chan & Raymond Chen
Michael & Helen Cheng
The Chow Family
The Farrow Family
Vivi Wei Gen & Sen Wang
The Giddings Family
Rico & Angela Gutierrez
Andrew & Jennifer Hall
The Harris Family
Raymond & Stephanie Ho
John Hong & Amy Zhang
Young & Sunny Hong Family
Deborah & George Huang
Cheng-Chi Huang & Tai-Wei Wu
Michael & Anita Huang

Ying Jiang & Jiacheng Wu
The Nguyens
Yuki Jin & Jackie Zhang
Chad & Zhenzhen Kendall
Salman & Shazia Khan
Walter & Elaine Khaw family
George, Carolina, Nicholas & Theo Kokoris
The Kuo Family
Stella Lee & Wayne Yang
Daniel & Ariel Lee
Eric Leung & Jessica Wong
Youwei Li & Tzu-Yen Huang
Fang Liu & Hui Wang
Kelvin & Vivian Lo
Joe Zhou & Joan Luo
Patrick Mak & Tina Cho
Kin & Isabelle Poon

Joyce Rusitanonta & Jamie Lohrungruang
May & Kevin Thai
The Tham Family
Richard & Alice Tong
Yvonne Tseng & William Tom
Karl Fredrich & Jill von Tiehl
Tommy & Lisa Vuong
Hongxin & Xiaoqian Wang
Mr. & Mrs. Basem Wasef
Krista Wong & Alex Leung
Jacob & Wendy Wong
Meng Chieh Wu & Yi Chia Chen
Liu's Family
Jennifer & Billy Yang
Dujuan Zhou & Qiang Duan
The Zuckerman Family
Parent & Community Donor
$500 to $999
Soam & Shari Acharya
Shawn & Amy Batten
Aldo Cali & Brenda Salinas
Alan Chan & Muky Dai
Andy Chang & Samantha Chen
Alvin & Grace Chen
Terry & Saeri Dobson
The Forsyth Family
The Groppi Family
Ken & Nicole Hsu
Aaron & Erika Kaiser
Tao & Haifeng Li
Frank & Tina Liao
Tim & Emily Lin
Hua Meng & Jianhua Fu
Song & Min Meng
Michael Ngo & Karen Ho

The Pott & Carver Family
Robert & Lori Ramirez
Islam & Razzak Family
Maki Kaneko & Mohamed Seleem
Zhen Song
George & Carrah Stamatakis
Rexford Zhang & family
Eri & Shinsuke Takami
Nelle & Chris Tolles
An Trinh & Loi Phan
Tammy Weaver
The Wiweke Family
Linkai & Joanne Wu
Dr. Antonio & Prissilla Liu
Michelle & Kristopher Motschenbacher
Xiao Qian Zhang & Lei Li
Zhiwei Zhang & Ting Jin
Contributor
Up to $499
Vartan Bezhanyan & Anna Kartashyan
Jeffrey & Jessica Bulgin
Heidy Calderon & Mario Diaz
Stephen Chao & Yulin He
Richard Chau & Iris Mak
Allen & Liza Cheung
Imad & Zeina Daoud
Vinh & Jennifer Hong
Saul & Huiqian Hsu
Katherine Huang
The Hui Family
The Johnson Family
Kathy's Family
Melissa & Jim Kehoe

Bryan & Marisa Kelly
Brian & Jia Kuo
Mei Wun Wong & Magnus Kwan
Bryan & Amanda Larson
Sandra Chen Lau & James Lau
Howard & Shiao Wen Lee
Grace Lim & John Lay
Shan Luo & Cheng-Chi Tsao
Donna Faye & Percival Morales
Winston Muditajaya
David & Lien Nguyen
Kathryn & Manuel Olaiz
Robert & Sarosh Petersen
The Saber Family

The Sakai Family
Mr & Mrs Munesh Sakhrani
Ivan & Xenia Sanchez
Jason Scates & Brooke Aguirre
Tatiana Shmonova & Alexey Shmonov
Haolin Sun & Ying Wang
John Tran & Betty Thai
Alicia DeMarco Voltz & Scott Voltz
Ping Wei & Yong Chen
Katie Chiu & Angus Wong
Jerry Yuan & Nicole Zhou
Lei Zhuang & Xuebin Zhang
Qiong Zhou & Zhou Li
Please note that donations can take up to 72 hours to reconcile and post. Donor information is updated weekly.
Donations as of April 14, 2022