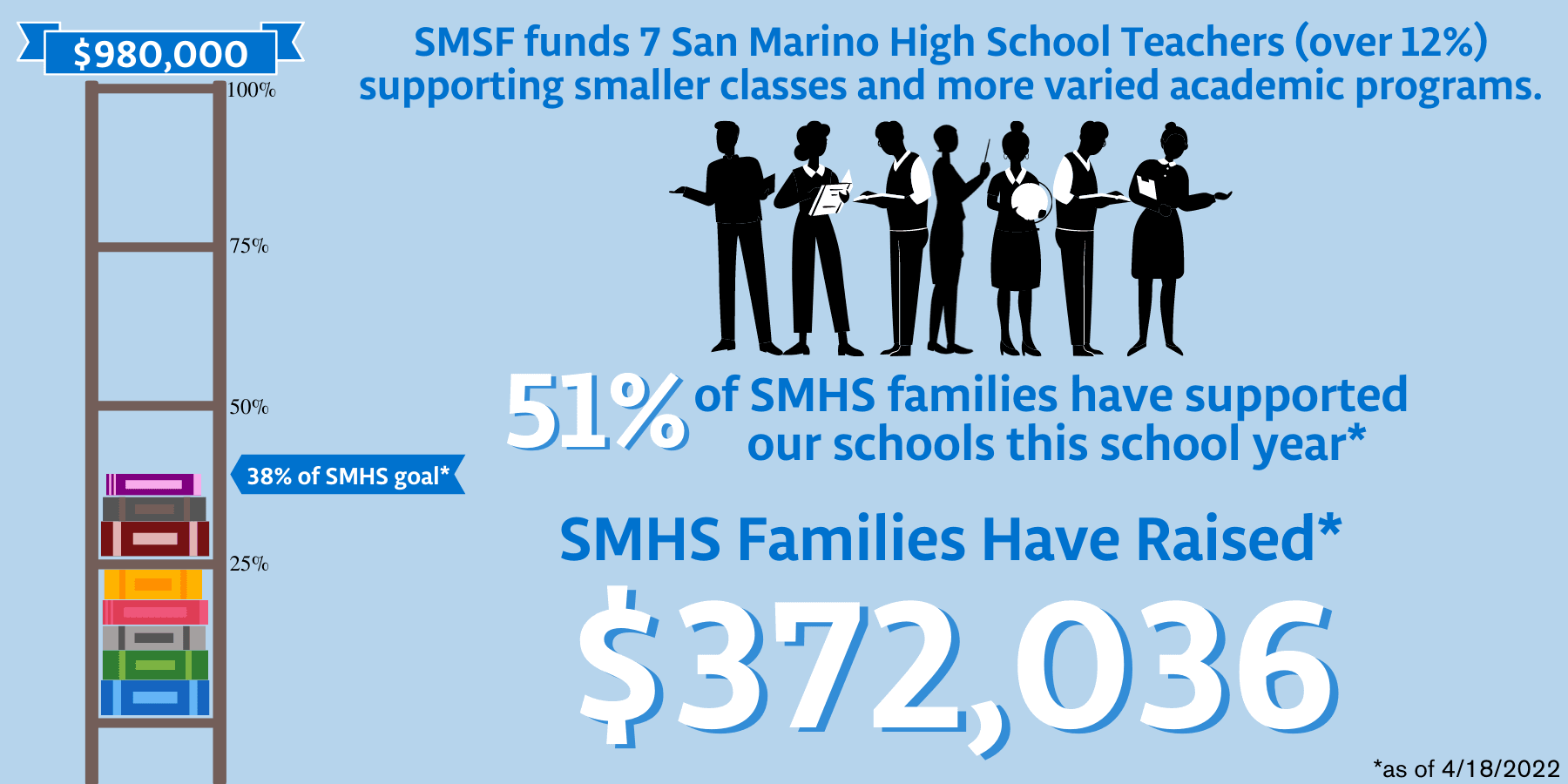 We Need Your Help To Reach 100% Participation!
Please join these families and help us reach 100% parent participation at San Marino High School.
Founder's Circle
$10,000 and Above
Jack Chou & Kathy Wu
Andrew & Michele Esbenshade
Mark & Danica Hughes
Michael & Stefanie Killackey
The O'Mara Family
The Repetto Family
Annie Shih & Stanley Huang
Jon & Daisy Wilson
Winnie Zhang
San Marino Family Circle
$5,000 to $9,999
Rich Anthony & Jenny Sievers
The Barrett Family
Brent & Erin Bilvado
The Borkar Family
Elizabeth & Howard Chen
Alan Chen & Yvonne Cheng
Alice & Michael Chen
John & Jane Chon
Jennifer & Sid Danenhauer
The ELShahawi Family
Nicolai & Julie Foong

Daniel & Kaoru Hong
C. L. Yang & L. H. Jin
Kyu & Jennifer Kang
Michelle & Leo Lei
The Liao Family
Minglih & Stephen Linden
The Maling Family
Alison & Erik Moller
The Nesnas Family
Steven & Jennifer Park

Christina & Matthew Pink & Family
Anthony & Shannon Riboli
The Segimoto Family
Alice Song & Scott Ulrich
Victor & Angela Sze
Andy & Christine Tran
Christine & Kevin Tsai
Conrad & Jean Tseng
Tony Woo & Kimi Suehiro
Ted & Kimi Yu
Lacy Park Donor
$3,000 to $4,999
The Hoang Family
Paul & Kelly Jin
Goretti & Jeffrey Joe
The Jue Family
Vivien Lok & Daniel Law
The Oliver Le Family
Hailin Li & XiaoYan Zhang
Kerry & Edward Lovelock
Peter Ly & Evelyn Xu
Karun & Monica Mao
Minghua Na & Dawu Zhao
Nhung Nguyen & Minh Huynh
Van & Connie Pham
David & Jennifer Rios

Puchun Cai & Honghua Shang
Luwei Geng & Yanhong Shen
Dennis Ko & Joice Shih
John Ryan & Kimberly Siegmund
Silvia & Randy Sowell
Dong Tang & Yan Lin
Peter & Vivian Wong
Ning & Billy Wu
Wen Yu & Tim Guo
Xueying Zheng/Yijun LI
Huiping Zheng & Jiafu Lin
Hanling Zou
Huntington Donor
$1,000 to $2,999
Meredith Bruno
Annie Jie Chen & Jianfen Cai
Yixiang Cao & Kwong Fat Ng
Brian Chan & Carmen Peng
Daphne & Henry Chang
Wen Chang & Vanessa Lee
Amy Chang & Vincent Hou
The Cheung family
Ming Chen & Grace Li
Jerry Kang & Jane Chen
Yiu Cheung & Yik Fung
Olive & Lope Choa
Cheryl & Michael Chu
The Corley Family
Weina Dai & Caifu Yao
Edwin & AnnaMaria Delos Santos
The Farquhar Family
Jane & David Feinberg
The Giddings Family
Anne & Sean Gill
Limin He & KungSong Li
Jeffrey Hong & Lauren Lim

Juliana Ng & Gan Chong Huang
York & Priscilla Huang
John & Maribel Incontro
Chen-Chia Chen & Wei Jia
Ada Cao & Wei Jiang
Hezhong Jin & Qifang Yang
Wade Kackstetter & Qing Yang
Jocelyn & Allen Lu
Doris & Kostas Kaporis
Marta & Michael Dean
Salman & Shazia Khan
Patricia & Thomas Koch
Sylvia & Peter Koh
Joyce Leckband
Nicholas Lee & LaiLing Cheung
Sharlene Lee & James Wilmoth
Vernon Lee & Ryoko Uratani
Wesley Lin & Sara Lee
Li Pan & Guotao Liu
Ken Yue & Maggie Mar
Yuan Min
Tommy Salim & Lince Minah

The Oliveros Family
Danny Ong & Yi-Chen Chu
Kenneth & Christine Pedroza
Allen Pu & Kelly Sung
The Family of Krishna & Purush Rao
Frank Shyr & Ivy Lin
The Camille Tai Family
May & Kevin Thai
The Wang Family
The Wang Family
Marci Wendling & Timothy Wendling
Liu's Family
Mazi & Gina Yarahmadi
Boren Chen & Family
Michael Kwok & Allison Yim & Family
Tian Li & Cheng Yu
Huaying Zhang & Guoxiang Chen
Jianwei Zhang & Xiaoye Ma
Lei Feng & Chen Zheng
Junheng Zhou & Xuemin Liang
Parent & Community Donor
$500 to $999
Arthur An & Margaret Faye
Michelle & L. Wayne Ausbrooks
Vinayak & Paige Bharne
Bindra Family
Borrego Family
The Bruning Family
David Chang & Yu-Ming Wei
FuLi Chao & Nancy Yin
Charles Norton & Fei Chen
Yvonne & Raymond Chen
Christopher Chwang & Emma Cheung
Robin & Song Diep
Terry & Saeri Dobson
Dewei Dong & Liting Min
The Egan Family
Jenyu Fan & Ming-Chi Huang
Maricor Francia & Richard Francia
Richard & Eileen Fruto
Jason Fu & Hong Wang family
Evangeline & Manuel Giron
Bruce & Sonia Goldberg
Denise Guan & Victor Wu

Jeremy & AnnaLiza Hail
Anonymous
Michelle & Ming Hsu
Roger Lee & Fiona Huang
Paul Andrew & Brenda Impellezzeri
Andy & Christine Kao
Kyle & Laura Kinoshita
Thomas Kuo & Mengchin Fan
Jihong Li, Guoqing Chen
James & Jennifer Li
Kevin Lien & Lien Diep
Michael & Jane Tan
Michael & Cynthia Lin
Richard King & Jing Lou
Gangzheng Lu & Wenting Zeng
Audrey & Michael MacDermott
Hua Meng & Jianhua Fu
Cassandra Zappaterreno & John Morning
David & Amy Morris
Grace Lee-Navarrete & Agustin Navarrete

The Newton Family
Elyse Whittaker-Paek & Steve Paek
The Yang Family
Priyanka Raghuram & Raghavendra Harwadekar
David & Sally Rodriguez
Lucia Sulaiman & Guntur Salim
Janice & Albert Su
Xu Sun & Yuting Shi
Lupe & Paddy Taber
William & Connie Hung
Kristie Tu & Minh Mach
The Wen Family
Quiying & Meilin Wang
Zhan Yang & Xiaomeng Ma
Grace Yang & Wei Huang
Rui Yang & Jian Wang
ChiMing Yeung & Kristy Wu
Guangyi Zhang
Jingjing Zhao
Contributor
Up to $499
Anonymous
Avvai Arumugham & Arulmalar Ramsingh
Katalina Baumann & Nick Avetisian
Drs. Bill & Ginger Bercaw
Heidy Calderon & Mario Diaz
Kent & Palma Mina Camera
Brian & Alicia Chandler
Howard Chang & Chiao-Wen Chuang
Richard Chau & Iris Mak
Michael Chiu & Susan Yang
Steve & Jenny Chou
Alan & Jennifer Chuang
Danny & Hana Chun
Hungwen Chung & Huitzu Wu
Debi & Gregory Cribbs
Phuong Diep & Vee Huynh
Hussain Kamal & Jennifer Dill-Kamal
The Emamaullee Family
Louis Felix Photography
Tommy & Yvonne Ng
Nicolette & Jay Fuerst
Dan & Siobhan Gambito
Christopher & Anel Gorham
April & Isidro Guerrero
Dominic Hansa & Helen Dong Witter
Geoff Hedgepeth & Miriam Cruz
Jeffrey Heller & Sherry Chung
Teri & Luis Anthony Hernandez
Barbara Hon & Andrew Quach

Steven Houck & Sherisse Tuck
Rebecca & John Hui
Rena & Joshua Hui
Gudu & Sunitha Husson
David & Melinda Irie
Anat & Ariel Kahan
Tiffany Kao & Wesley Li
The Kibbee Family
The Chua Family
Dawn & Ken Lau
OnHa Lee & Eric Kuo
Bin & Shujie Li
Kathy's Family
Xiang Li & Emily Su
SongShin Liao & ChaJoo Kim
Christopher & Susan Lim
Michelle & Steven Liong
The Lopez family
Li Xing Li & Xing Wen Luo
Lesette & Roberto Solis
Salomo Murtonen & Shelley Sun
Han & Simy Nguyen
Emily & Mark Panning
Dathao Phan & Lon Ta
Luis & Camille Rivera
James Roe & Rosa Roe
Fabian & Jennie Rousset
Cecilia & Luis Salgado
Peter & Ildebrenda Samson

Channpal Singh & Harleen Kaur
Jayseup & Heejin Song
Michael & Kimberly Spindler
Bruce Stallworth & Portasha Moore
The Streeter Family
The Hsu Family
Beth Szymkowski & Joseph Mathis
Weiming Tang & Peichun Tang
Patrick & Jasmine Tao
Ricardo Torres & Stephanie Kelsey
Oliver & Eugenie Truong
Ozgur & Gulsah Ustundag
Michael & Pauline Wan
Zhong Wang & Jun Yu
David & Lisa Wang
The Wang Family
Jack Fang & Annie Wang
Ping Wei & Yong Chen
Carolyn Weirick
Katie Chiu & Angus Wong
Haishan Wu & Zhuowen Luo
Haoyu Xu & Dajun Wang
Haoping & Wei Yang
Teri & Tim Yoshitake
Lisa & David Yuratich
Vivian Zhai
Xin Zhang & Zengfa Jia
Please note that donations can take up to 72 hours to reconcile and post. Donor information is updated on a weekly basis.
Donations as of April 14, 2022