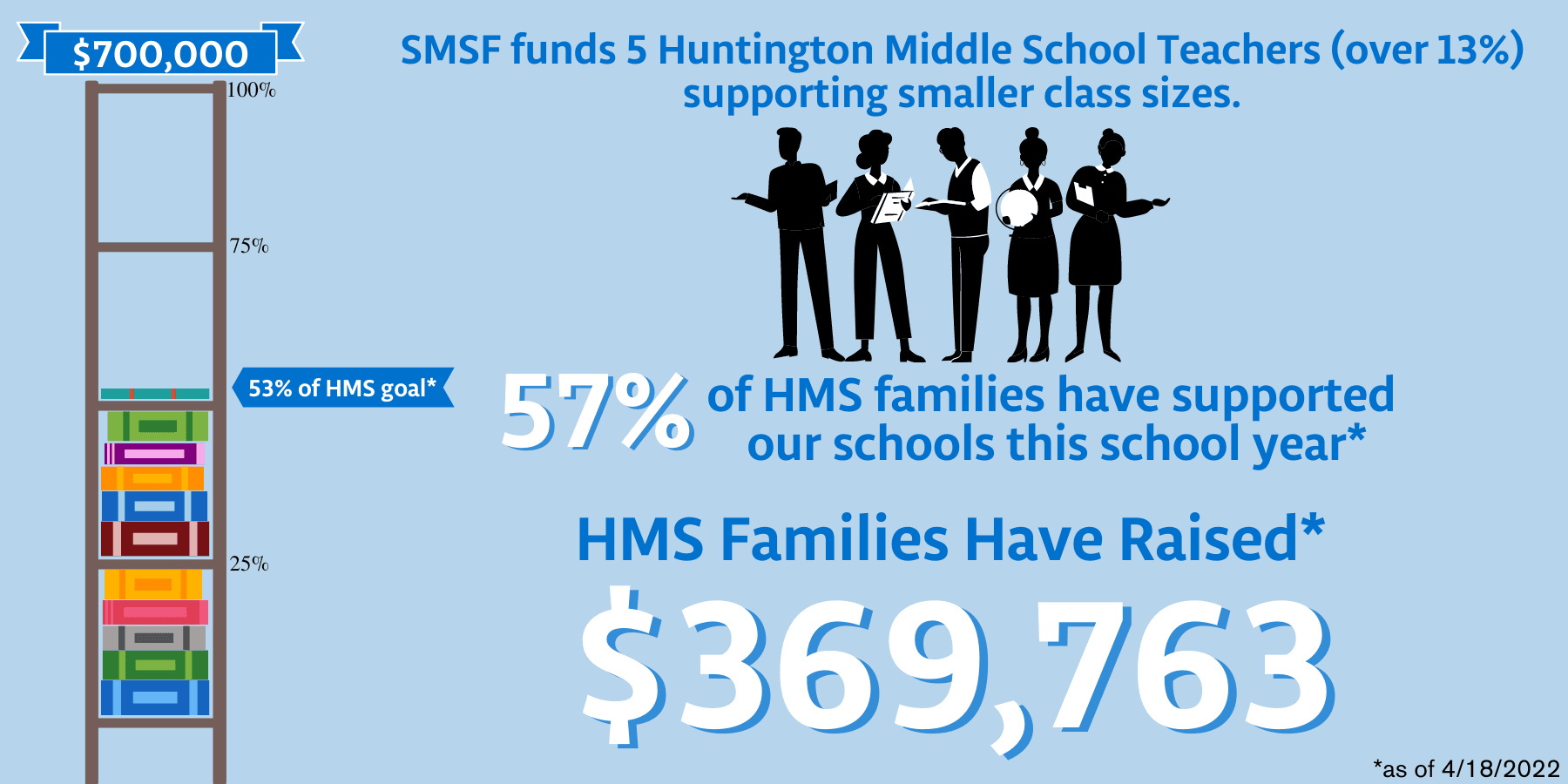 We Need Your Help To Reach 100% Participation!
Please join these families and help us reach 100% parent participation at Huntington Middle School.
Founder's Circle
$10,000 and Above
William & Juliana Barba
Jack Chou & Kathy Wu
Andrew & Michele Esbenshade
The Guo Family
Michael & Stefanie Killackey

Gabriel & Lourdes Lopez
The O'Mara Family
Annie Shih & Stanley Huang
The Martin Wang Family
Jon & Daisy Wilson
San Marino Family Circle
$5,000 to $9,999
Rich Anthony & Jenny Sievers
Brent & Erin Bilvado
Charcie & Christopher Chan
Weiwei & Henry Chang
Dave Chen & Lisa Pan
Elizabeth & Howard Chen
Alan Chen & Yvonne Cheng
Alice & Michael Chen
Derek & Wendy Cheng
Eireen & Peter Chien
Chih Tsung & Jie Chou
The Collet/Dooley Family
Jennifer & Sid Danenhauer
Imad & Zeina Daoud
Jun Yang & Jie Hu
The Hall Family
The Hoglin Family
Daniel & Kaoru Hong

Toby & Yuka Hsieh Family
Ruize Hu & Jing Zhao
Wendy & Choe Hung
The Jeffries Family
Kyu & Jennifer Kang
Michelle & Leo Lei
Jay Li & Family
Leyen & Dennis Lim
Renita & James Lin
Amanda Liu family
Margaret & Stephen Loh
Jiasheng Mai & Huan Xie
The Maling Family
Jeff & Sarah Morris
William & Sunny Oh
Steven & Jennifer Park
The Pathak Family

Anthony & Shannon Riboli
The Segimoto Family
Jerry & Lauren Shen
The Teh Family
Grace Ting & Raghu Murthy
The Jenny & Le Tran Family
Christine & Kevin Tsai
Conrad & Jean Tseng
Rosemary Lay & David Wang
The Wildeman Family
Tony Woo & Kimi Suehiro
The Yan Family
Larry & Wendy Yang
Mark & Amy Yee
Z. Zhang's Family
Shengyuan & Michelle Zhang
Lacy Park Donor
$3,000 to $4,999
Michael & Toby Chou
The Hoang Family
John & Cheryl Freiburg
The Gin Family
David Harper & Changhong Chen
Jasmine Huang & Weilun Li
Xiang & Li Huang
Deok Song & Christine Hyun
Paul & Kelly Jin
Ivan Law & Ronnia Ching
Xiaomao Liao & YingHua Chen
Fred Yang & Kate Luo
Kris Mo & Weston Suh
Nhung Nguyen & Minh Huynh

Van & Connie Pham
Mingyu Qu & CaiHe Sun
Kai & Lisa Ranabargar
David & Jennifer Rios
Puchun Cai & Honghua Shang
Huan Tong & Yun Deng
Riley Trinh Family
Weni & Doug Wilson
Amir & Yukino Yeganeh
Jocelyn & Johnny Young
Vincy Yu & Andy Chen
Xueying Zheng/Yijun LI
Cindy Zhu
The Zhang Family
Huntington Donor
$1,000 to $2,999
The family of Erin Bartlett
Brian Chan & Carmen Peng
Daphne & Henry Chang
Wen Chang & Vanessa Lee
Amy Chang & Vincent Hou
Jingna Chen & Xionghui Pan
Rosangela & Raymond Chen Family
Kelly Ching & Karel Kooper
The Chow Family
Wilson Chu & Regina Kan
KD FOUNDATION INC
Jimmie & Fransisca Dang
The Greer Family
Rico & Angela Gutierrez
Vanessa & Steve Tsai
Xiaoguang Han & Song Hua
The Harris Family
Takato & Ryoko Hayashi
John Hong & Amy Zhang
Barry & Michelle Hou
Ryan Hsu & Lily Kao
Michael & Anita Huang

The Tham Family
Tony Hwang & Tammy Yi
Richard & Terri Jue
Wade Kackstetter & Qing Yang
Marta & Michael Dean
Chi Yoon Kim & Jae Bum Lee
Barbara & Gregory Kim
John & Angela Kohn
Hyung Joon & Chien Yu
Tincheung Lam & Su Xie
Stella Lee & Wayne Yang
Daniel & Ariel Lee
Wenle Lei & Winnie Tang
Yanling Li & Yongqiang Liu
ZhongMei Li & SiHai Jin
Yahong Liang & Yonglai Luo
Wesley Lin & Sara Lee
Joe Zhou & Joan Luo
Patrick Mak & Tina Cho
Joseph & Michelle Marcos
Sunyoung & Steven McDermott
The Mellis Family

The Mo Family
The Oliveros Family
Price Wilson & Amber Pollard-Wilson
Kin & Isabelle Poon
Sarah & Jason Rome
Vince & Enny Samara
Patricia & Matthew Sullivan
Masako & Richard Teng
Richard & Alice Tong
Yvonne Tseng & William Tom
Theodore & Lamy Tung
Tommy & Lisa Vuong
Donald & Ruth Walker
Marci & Timothy Wendling
Janice Wong & Ying Hsien Huang
Amelia & Brian Wu
The Yamaba Family
Shirley Yen & John Huang
Tian Li & Cheng Yu
Meixian Yuan & Xianghai Kong
Yunfei Lang & Yi Zhang
Beiyuan Zhang
Max Zhou Family
Parent & Community Donor
$500 to $999
Soam & Shari Acharya
Edward & Noelle Aloe
Michelle & L. Wayne Ausbrooks
Shawn & Amy Batten
Bernstein/Mulet Family
Vinayak & Paige Bharne
Luk Bhavabhutanon & Wiparat Rittichai
Aldo Cali & Brenda Salinas
Dennis Chan & Josephine Keung
Mandy Chan & George Szeto
Andy Chang & Samantha Chen
David Chang & Yu-Ming Wei
Vivian Chen & Michael Yang
Sharon Chow & David Dang
Jian Fan & Zhongyun Wang
Jeffrey & Danielle Gregg

Jeremy & AnnaLiza Hail
Fan Hsu & Liang Li
Xiao'Li Liang & Sheng'An Hu
Yanchong Huang & Hong Jiang
The Hui Family
The Yan Family
Kyung Hoon & Hyunju Jung
Thomas Kuo & Mengchin Fan
Jessie Kwan & Zhirong Lu
Katherine lam & Martin Kwok
James & Jennifer Li
Jenny Yang & Sean Liu
Yajun Liu & Fei Xue
The Yang Family
Cassandra Zappaterreno & John Morning
David & Amy Morris

The Newton Family
Jason Phan & Candice Chow
Cybil & Albern Pucan
Xiaogang & Jian Qiu
The Yang Family
Anny Surmenian
The Tewasarts
Ban Tieu & Yuhan Feng
Elena Tolkacheva
Raymond & Yang Wong
Jiejun Yang & Youhong Tong
Michelle & Kristopher Motschenbacher
Wei You & Jie Li
Wensheng Zhang & Xiao Xiao
Guangyi Zhang
Contributer
Up to $499
Anonymous
Kent & Palma Mina Camera
Junwu Cao & Ruiqiao Li
The Cave Family
Craig & Lesley Cheung
Danny & Hana Chun
Qin Dai & Jinny Tong
Jeff & Diana De Los Santos
Krista & Anthony Paul Diaz
Cheryl & John Freiburg
Daniel & Maria Teresa Gallardo
Qin Gao & LingWah Sham
Brad & Vanessa Golden
Antonio & Patricia Gonzalez
Christopher & Anel Gorham
Jane & Brett Goslett
Patricia Gu & Peter Wang

April & Isidro Guerrero
Vinh & Jennifer Hong
James Huang & Congling Zhao
The Hsu Family
Anat & Ariel Kahan
Bryan & Marisa Kelly
The Fang & Kwan Family
Chau Lam & Zeng Wang
Jane Lam & Lyndon Li
Sandra Chen Lau & James Lau
Dawn & Ken Lau
Tiffany Lee & Ken Dai Wang
Art & Tammy Lopez
The Hui Family
Shouming Miao & Ju Hou
The Okuno Family
Sarah Perry & Cyrus McWilliams
Andra Stepanian & Eduardo Rodriguez

Jason Scates & Brooke Aguirre
Channpal Singh & Harleen Kaur
Raymond Souza Bedoya & Marisela Delgado
Bruce Stallworth & Portasha Moore
Haolin Sun & Ying Wang
Silvia & Jose Torres
John Tran & Betty Thai
Oliver & Eugenie Truong
Ozgur & Gulsah Ustundag
David & Lisa Wang
Jack Fang & Annie Wang
Becki & Alex Watlington
Bruce Wee & Lynn Huynh
Ping Wei & Yong Chen
Steven Wong & Jennifer Lam
Jill & Patrick Wright
Kate & Peter Wu
Michael & Magnolia Ycasas
Please note that donations can take up to 72 hours to reconcile and post. Donor information is updated weekly.
Donations as of April 14, 2022