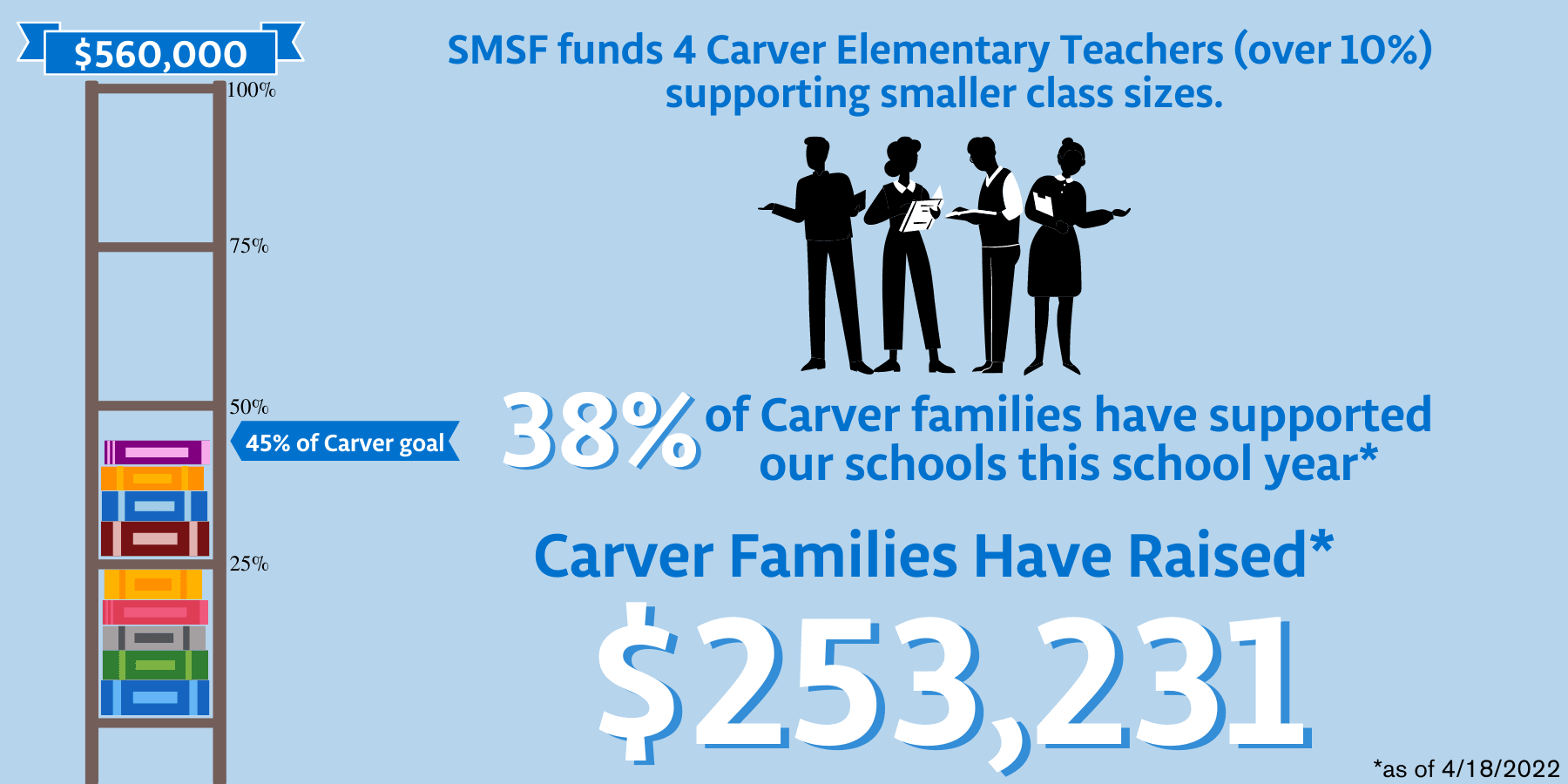 We Need Your Help To Reach 100% Participation!
Please join these families and help us reach 100% parent participation at Carver Elementary School.
Founder's Circle
$10,000 and Above
Annie Shih & Stanley Huang
The O'Mara Family
San Marino Family Circle
$5,000 to $9,999
Lei Zhang & Michaela Chang
John & Jane Chon
The Collet/Dooley Family
Jun Yang & Jie Hu
Arash Haghighi & Karen Lai
The Hall Family
Christina Chu & Samuel Ho
Charcie & Christopher Chan
Wendy & Choe Hung
The Jeffries Family
The Kay Family
Norman Ko & Alice Chiang
Jeff & Sarah Morris

The Nesnas Family
William & Sunny Oh
The Pathak Family
Ashish & Parul Rastogi
The Shen Family
Jerry & Lauren Shen
The Teh Family
The Jenny & Le Tran Family
The Trybek Family
Jason Yan & JinXi Ni
Mark & Amy Yee
Z. Zhang's Family
Fan Zhang & Zhuo Wang
Lacy Park Donor
$3,000 to $4,999
The Blinchik Family
Annie Chau & Stuart Min
Chien Hung Chen & Shuang Ling Fan
Michael & Toby Chou
The Hoang Family
John & Cheryl Freiburg
Xiang & Li Huang
Paul & Kelly Jin
Jason & Nena Koshi
Vivien Lok & Daniel Law
Ivan Law & Ronnia Ching
Jin & Liu Family

Sherlene & Alvin Loo Family
Kris Mo & Weston Suh
Nhung Nguyen & Minh Huynh
Lina & Cris Olariu
Stewart & Nancy Phillips
David & Jennifer Rios
Dong Tang & Yan Lin
Lina & Jim Wu
Felix & Esther Yao
Amir & Yukino Yeganeh
Jocelyn & Johnny Young
Huntington Donor
$1,000 to $2,999
Lily Zhu & Gregory Almond
The Bugbee Family
Tony & Susan Chang
The Chiu family
Wilson Chu & Regina Kan
Cheryl & Michael Chu
The Greer Family
Takato & Ryoko Hayashi
The Helmy Family
Chunlai Hou & Li Li
Juliana Ng & Gan Chong Huang
Ada Cao & Wei Jiang
Greg & AnnaMarie Johansing
The Khonsari Family
Chi Yoon Kim & Jae Bum Lee
Roger Lai & PeiWei Lu

Tincheung Lam & Su Xie
Ee Foong Lee & Khai Li Yap
Lai Chu Leung & Andrew Chan
Tiffanie Liao & Fleming Chu
William Kiang/ Joanne Liu
Jocelyn & Allen Lu
Xi Lu & Changzhi Pan
Joseph & Michelle Marcos
Jonathan Mazur & Susan Chao
Sunyoung & Steven McDermott
The Mellis Family
Allen Pu & Kelly Sung
The Sellitti Family
Frank Shyr & Ivy Lin
Karen & James Stoteraux

Michele Sue & Tzu-Jen Tzao
Ricky Tantiga & Hui-Ju Chuang
Jenny Mao & Jeff Tseng
Alexander Tu & Connie Chen
Theodore & Lamy Tung
Eugene & Kristine Tzeng
Sue White
Joe Su & Eechin Wong
Amelia & Brian Wu
Yibo Xiao
The Yamaba Family
Xingang Yan & Meng Lu
Yau's Family
Shirley Yen & John Huang
Hua & Tingting Zhang
Parent & Community Donor
$500 to $999
Luk Bhavabhutanon & Wiparat Rittichai
Jerome & Sabrina Chan
Mandy Chan & George Szeto
Christopher Chwang & Emma Cheung
The Costo Family
Robin & Song Diep
Gabriela Goldberg & Federico Llach
Joshua & Ann Granville
The Guidolin Family
Qing Huang & Emily Chen
Roger Lee & Fiona Huang
The Hui Family
Peili Ma & Rong Nan Lin
Josh & Madoka McGinley
Michael & Jary Morovati
The Newton Family

Senthil Subramanian & Komala Rajendran
Jeffrey & Charmayne Ross
Jonathan & Jackie Shen
Ben & Jen Siu
The Tewasarts
Cam & Jennifer Tien
Kaiping Wei & Xinlong Li
Jiaqi & Jiangrong Wu
The Yan Family
The Yang Family
Ling Yang & Jiqing Zhao
ChiMing Yeung & Kristy Wu
Hui Yuan & Dan Guo
Yiliang & Yue Zha
Contributor
Up to $499
Avvai Arumugham & Arulmalar Ramsingh
Xenia Chao & Ricky Chan
Craig & Lesley Cheung
Gregory & Amie Cohen
Jeff & Diana De Los Santos
Hussain Kamal & Jennifer Dill-Kamal
The Eldringhoff Family
Cheryl & John Freiburg
Jing Gao & Liang Pan
Maria & Francisco Garibay
Jane & Brett Goslett
April & Isidro Guerrero
The Guo Family
Chris Hansing & Mary Rahmani

Chris Hsu & Christina Lu
Amy Hwang & Robert Egan
Anat & Ariel Kahan
Selina Kwok
Eric & Suzie Lee
Allis Lee & Elliott Henry
Feng & Joyce Lin
Yuanyuan & Jason Lu
The Okuno Family
Ricardo & Jackelyn Ornelas
Edie Oung & Daniel Wong
Jeremiah & Brianne Pack
Victor & Xochitl Pelayo
The Qin family

Lesette & Roberto Solis
Nagi & Olena Sous
Serafina Palazzolo & Jason Stoikoff
Fengge Su & Tien Chan
Kishore Kumar Sundaram & Arthi Balakrishnan
Oliver & Eugenie Truong
Dustin & Carissa Tsu
Becki & Alex Watlington
Pauline Wong & Chi So
Yang Yang & Xiao Dong Zhang
Timothy & Michelle Young
Hui Zhu & Yao Guo
Please note that donations can take up to 72 hours to reconcile and post. Donor information is updated weekly.
Donations as of April 14, 2022